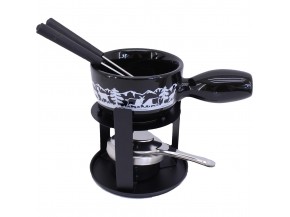 Fondue, raclette and pierrade appliances.
Discover our superb selection of small appliances special mountain! You will find raclette machines that work with a candle so you can make a raclette at the top of a summit after a hard hike, fondue machines with modern mountain patterns. Or raclette machines for 2,4 6 and 8 people to enjoy a good raclette during a cool winter evening!
Mountain pattern, wood, stone or metal these appliances will allow you to eat with a nice mountain decoration and sober!