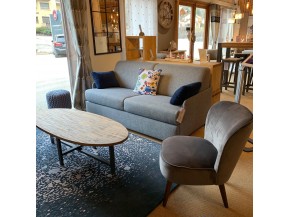 Sofas and armchairs to furnish your living room
Welcome to our Sofas and Armchairs section!
Browse our selection and discover a wide range of sofas that guarantee that very special mountain chalet ambiance!
Fabrics with hearts, chalets, fir trees, and other typical mountain motifs, you're sure to be impressed by our great choice of mountain-style sofas.
You prefer a different style? We have a large number of contemporary designs that are sure to complement any home decor.
Looking for a sofa-bed that is as comfortable for sitting as it is for sleeping? Take a look at our sofa-bed collections: Clic Clac, BZ, Lit Rapide and Rapido.
You prefer a really comfortable unfoldable sofa? Check out our range of Unfoldable Sofas and choose the model that best fits your needs and lifestyle, but all equally as comfortable!

Many other types of fabrics are available so don't hesitate to contact us for more information.
If you don't live close by, Lecoinmontagne.com will find the best way to deliver your sofa, and at the least possible cost.