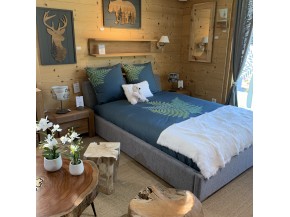 Furnish your room in a mountain spirit
For wonderful nights spent in the mountains...
Beds, chests of drawers, bedside tables and wardrobes. You will find in the Bedroom category all mountain furniture in order to fit out your bedroom. From a wide collection of products, you will be able to find the collection which will melt your heart. Alpine bunk beds, bed heads, or whole beds with drawers. Choose the bedding which corresponds to your interiors and which will enhance your bedroom.
If you are particularly interested in a bed, go to its product sheet and click on its collection: Lecoinmontagne groups together for you all furniture with the same finish. So just like that, everything that you will put in your bedroom will be granted.
Isn't a bed without a bed base or mattress less practical for sleeping? Come and look at our Bedding category: you will find here a wide choice of mattresses, slatted bed bases, made in France near Voiron, with an excellent price to quality ratio.