A loyalty card, a real one!
For almost 4 years now, our loyalty card has been delighting our customers in store. Now, it is enabled online too. With no lifetime, the points you earn when you buy at Lecoinmontagne are fiercely kept in our software. You only come once a year to Serre Chevalier? No risks, your points will always be there from a year to the next one.
And you can not forget it because there is no material card.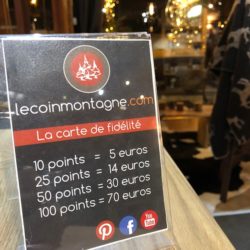 How do these points work?
The points calculation in an order is simple. Every 10 euros, you earn one point (excluding eco participation for furniture)
Different points level will allow you to use discounts coupon on your next purchases.
For example, an order of 250 euros gives you 25 points, you convert them in a 14 euros discount coupon for your next purchase!
Online vs in Store
Your card can be used both in store and online.
If you order online, the card is automatically activated. Thus, if you go to the store, your points will be available.
If you buy in the store, we register your details. Then you create an account on our website with the same email address and the points are available online.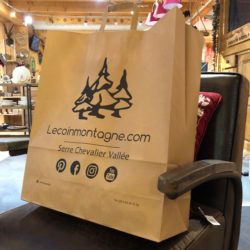 How to use my loyalty points?
Here are some pictures how to withdraw your loyalty points when placing your order online.
NB: There are two cases in which you will not find your points:
You have made a store purchase and have not yet signed up. Please sign up and you'll enjoy your points within 24 hours.
You are not yet a customer of the site nor the store. So sign up and validate your order. The points will be available within 24 hours.
Here is your cart preview.
Add products you want to order to your cart.
Go into your cart clicking on "Order" if you are in an product page, or on "Order" in the black menu of your cart
Below your articles there is dropdown list alowing you to use it.
Click on it and choose the discount amount you want.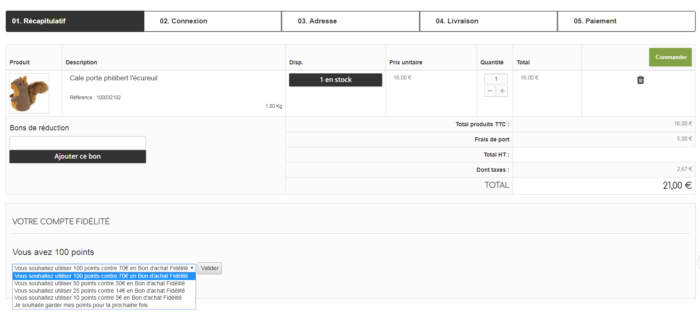 You dont want to use your points anymore? Do not panic !
Delete your coupon
If you are looking for a coupon you created and wish is not in your cart anymore, go to your account, section "My Coupons"
Important
Loyalty points can not be used on sale or discounted products.
For in-store purchases that do not relate to the legislation of online purchases, products purchased with loyalty points are not taken back nor exchanged.
Points you earn in store are sent to the website within 24 hours.
For an order online as in store, loyalty points are being used excluding any shipping costs.
For an in-store cash purchase, the discount coupon can't exceed the amount you have to pay (for example a discount of 5 € for a purchase of 4.50 €)